Pro Training On-Site Syllabus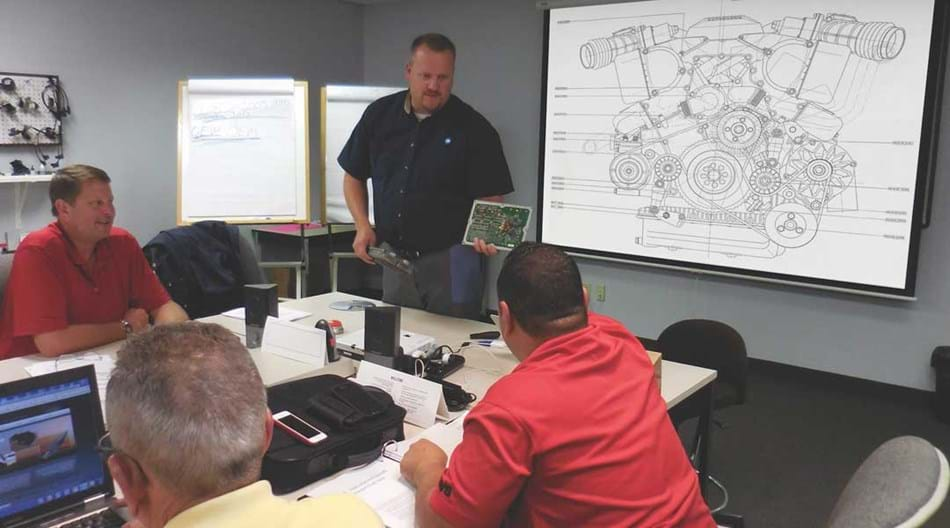 BWD Pro Training On-Site is a reality-based technician training program focused on the needs of the aftermarket professional automotive technician. For scheduling and availability, contact your local representative or submit an inquiry using our contact form. Here's what on-site seminars will be available this year:
New Topics for 2019
EVAP Code Diagnosis (Available January 2019)
Evaporative Emission control systems have undergone numerous changes over the last 20 years due to ever tightening government regulations. The MIL light is usually the only indication of an EVAP fault and it can come on with even the slightest of leaks. This class will focus on the principles behind the EVAP onboard diagnostics and empower you to be able to solve problems regardless of the various systems you encounter. You will be able to get that light to go out and stay out.
Advanced Engine Mechanical Diagnostics (Available January 2019)
Mechanical, or base engine faults can be difficult to diagnose. Technicians can replace the wrong parts or spend a lot of wasted time on diagnosis when the cause of the problem lies inside the engine. With the introduction of advanced valve actuation systems, the difficulty faced by technicians has grown. Fortunately, new diagnostic tools and techniques are now available to make the job easier. The goal of this class is to prepare the aftermarket technician to use the appropriate tools to identify many base engine faults without engine teardown. 

The Top Light Duty Diesel Problems and Solutions (Available January 2019)
The diesel engine is a popular option when your customer needs to tow a trailer. This class will contain the latest information on common failures and solutions for light duty diesel engines used in pickup and vans. This class will include information on Cummins, Duramax, and Power Stroke. You will learn common failures and solutions for these engines. In this class you will see diagnosis and component replacement performed on trucks from the field. Get ready to provide great service for your diesel customers.

Asian Import Drivability Solutions (Available August 2019)
These popular vehicles bring numerous unique system controls and diagnostics to the table. However, misfires, codes, and other symptoms must be diagnosed. In this class we will explore a variety of these systems which can cause faults and apply tried and true diagnostic techniques to solving real world problems through a variety of case studies.

GM Common Problems and Solutions (Available August 2019)
The General Motors fleet of vehicles has been changing rapidly over the last half dozen years. Smaller and more efficient engines now dominate a fleet of downsized vehicles. At the same time, full size gasoline pickup trucks are still very popular. Producing vehicles with high fuel efficiency and customer demands for performance has brought interesting changes. Computer networks and safety system complexity has grown as well. The goal of this class is to prepare aftermarket technicians for the diagnosis and repair of common faults found on GM vehicles. 
Additional Topics for 2019
Control Module Diagnosis and Replacement
When a vehicle has been diagnosed as having a bad module, do you feel confident that you can handle the job? Are you tired of sending vehicles to the dealer or calling in a mobile technician to have modules flashed or setup? The tools and information for the job are available to aftermarket technicians. In this class, we will help you to determine when a module has failed, which module has failed, and what is necessary to replace the module. We will show you how to get the tools, information, and the subscriptions that you need to get the job done. 
Cummins Diesel Diagnostic and Repair Solutions
The Cummins diesel engine has been a very popular engine choice for the Dodge truck platform. This engine has been in use for over 20 years but in recent years there have been changes to the fuel system as well as the addition of emission devices. We will show you how they work, how they fail and how they affect diagnosis and service.

Diagnosing Fuel Trim, MAF, and O2 Problems
The next vehicle you diagnose might be equipped with an Air/Fuel or Lambda sensor. These sensors have complicated the diagnosis of fuel trim DTC and reduced power concerns. Our familiar scan data such as g/s for a mass air flow sensor, Short Term and Long Term for fuel trim, 0-1 volt for O2 sensors have been replaced with terms like kg/hr, Equivalence Ratio, Milliamps, or strange voltages that don't make sense. The goal of this class is to prepare aftermarket technicians to be able to streamline their diagnosis of fuel control related problems through an understanding of systems operation, and the application of data and diagnostic functions. 
Ford Driveability Solutions
Ford engine controls have undergone significant changes as more vehicles are equipped with features such as wide range air fuel sensors and EcoBoost systems. EVAP systems still require diagnosis and there are some new techniques required due to capless fuel fillers and other system changes. Ford's approach to misfire detection and data display can result in wasted time during diagnosis. The goal of this class is to prepare the aftermarket technician to diagnose common failures in electronic throttle control, variable valve timing, fuel measurement and delivery, and other areas which can cause driveability symptoms on Ford vehicles.

HVAC Diagnosis and Repair Solutions
HVAC systems and designs have changed to improve fuel economy and reduce emissions. Technicians must adapt to new procedures, controls, tools, and refrigerants. Incorrect service can cause costly comebacks and wasted time. The next refrigerant, r1234yf is being used in more vehicles and technicians need to be prepared for diagnosis and service of these systems. The goal of this class is to enable the aftermarket technician to diagnose, service, and repair modern HVAC systems.

Integrated Power Module and Smart Junction Box Diagnosis
Chrysler and Ford vehicles have been using an enhanced "fuse box" which does a lot more than circuit control and protection. These modules can be integrated with the data bus and they can be the cause of many symptoms including inoperative components, no starts, and codes. You will need to be able to diagnose faults and be sure a replacement is needed before you order one of these expensive devices. Some of these modules will require programming before they will work.

Rapid Diagnostics: Going beyond the code
Engine performance problems typically set DTCs and technicians can fall into the trap of replacing parts based only on the code stored. What if replacing parts based on DTCs alone doesn't solve the customer concern? What if multiple codes are stored? What if a drivability concern exists and there are no DTCs? The most successful technicians in the industry approach problems in a structured and logical way. This class will prepare aftermarket technicians for diagnosing problems by applying techniques used by the most successful technicians in the industry.

Solve the Most Difficult DTCs
After almost 20 years of OBD2, technicians have learned to cope with most of the problems that come their way. But there are some systems that continue to be difficult to diagnose. Some of these are old and some are new. Some types of codes that can be difficult to diagnose include evaporative system, random misfire, Variable Valve Timing, catalyst efficiency, electronic throttle control, and fuel trim. The goal of this class is to prepare aftermarket technicians to solve some of the most difficult DTCs that they will face in the field.

Strategy Based Diagnostics
The cars we repair and the systems they contain have changed drastically. Is there really a "one size fits all" strategy we can use to diagnose codes and symptoms? We think there is. A good diagnostic technician knows how to combine experience, service information, and intuition to arrive at a theory and has the techniques and equipment needed to prove if it is correct. In this class we will introduce strategies for diagnostic work flow. Then, we will follow working technicians across the US as they apply their techniques to diagnose vehicles and put their strategies to work.

Whole Vehicle Diagnostics – Diagnosing the rest of the vehicle
To serve their customers, today's technicians need to be ready to deal with any problem that comes to the shop. The customer only knows that the vehicle doesn't feel right, drive right, or there is a light on. It is up to the technician to identify which system is causing the fault and affect a repair. It could be a transmission shift concern, an ABS fault, or a simple misfire. The goal of this class is to prepare aftermarket technicians for the evolving nature of the types of vehicle problems that they will be facing soon if not today.
Information Request for Pro Training On-Site